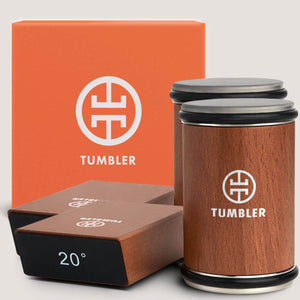 Effortless Sharpeninc, Times Two
Each pack contains two of our acclaimed Tumbler Rolling Sharpeners™ and two magnetic holders. This is your foundation for consistent, factory-level sharpness. Ideal for gifting, the 2-Pack offers a smart saving and a smart solution for knife care.
ROLL YOUR WAY TO SHARPER KNIVES
Designed for both novices and experts, our sharpener ensures a flawless edge every time. Simply choose your desired angle and glide the blade along the rolling disc. No fuss, no complications — just sharp knives in minutes.
The Ultimate Gift
Whether it's a surprise for an aspiring chef or a treat for a culinary veteran, these sharpeners are the ultimate gift for anyone serious about their knives. Presenting not one, but two opportunities to achieve the perfect edge, it's a gift that keeps on giving – precision, reliability, and satisfaction in every slice.
Why people love it
Check out why other customers love Tumbler.